Now Hiring Dynamic Individuals!
Do you have a passion for tinkering, designing, inventing, making, or art? Would you like to share your passion with K-12 teachers and students?
Innovators-in-Residence partner with teachers at metro Atlanta K-12 schools to develop and implement quality Science, Technology, Engineering, Art, & Mathematics (STEAM) curriculum. Innovators will work to create student-centered projects, as well as support engaging STEAM-focused after-school programs.
The Georgia Tech Center for Education Integrating Science, Mathematics, and Computing (CEISMC) is seeking dynamic individuals for its 2023-2024 Innovators-in-Residence cohort.
Duration: June 1, 2023, to May 31, 2024
Applications will be reviewed and accepted on a rolling basis until all positions have been filled.
For more information contact us at innovators@ceismc.gatech.edu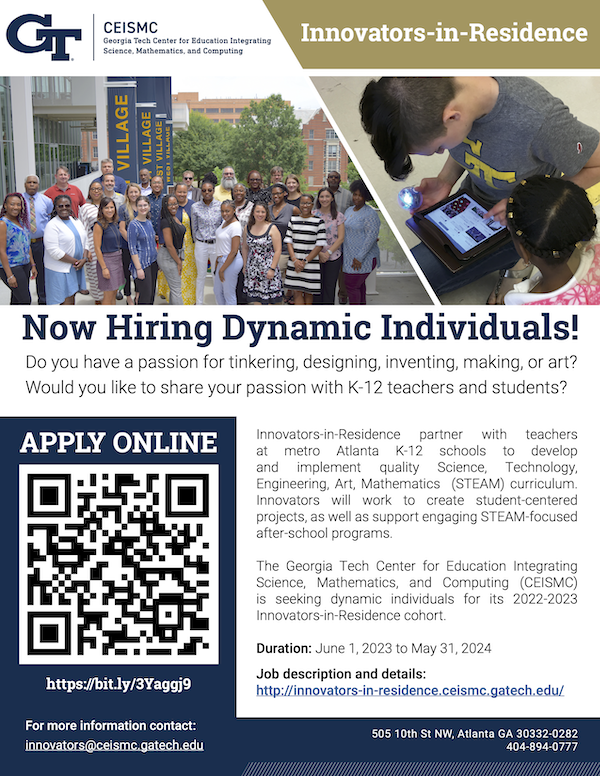 Frequently Asked Questions
What is an Innovator-in-Residence?
An Innovator-in-Residence is a person who works along with teachers to innovate the curriculum and integrate all parts of STEAM (Science, Technology, Engineering, Arts, and Mathematics) into hands-on projects
Is this a full-time position or a part-time position?
The Innovators-in-Residence are part-time contractors working up to 20 hours per week.
Is this a paid position or a volunteer position?
The Innovators-in-Residence is a paid position at $20 per hour.
What is the schedule like for Innovators?
The Innovators will work 2 days and a half-day, up to 20 hours a week.
Will the Innovators be working with teachers and students?
Yes, the Innovators will work primarily with the teachers to create a curriculum and could work with the teachers to co-teach the lessons and implement them.
What sort of time commitment does this residency involve?
The Innovators work a full year starting on June 1st and ending on May 31st every year. The Innovators are required to attend a monthly virtual meeting and turn in their portfolio with all of their work at the end of the year.
What school districts are part of the Innovators-in-Residence Program?
What if I have a commitment during the summer, but I can commit to the academic school year?
Those cases are handled case by case depending on the number of schools being served and the needs of the program.
Is transportation required to travel to the school assigned?
Yes, we do ask to have access to reliable transportation (own car, bus, metro, etc) to travel to the school assigned.
Are international candidates are allowed to be a part of the Innovators-in-Residence program?
Yes, but they have to qualify and adhere to work based on their visa terms and conditions
Is sponsorship provided for international candidates?
No, our program does not provide sponsorship for international students.